Hey Kids!
Members Only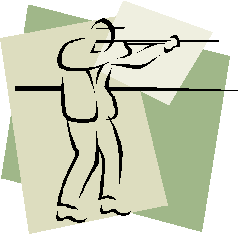 Practices, Workdays, and Current Projects
will be posted on this page
PRACTICE: Please see "practices" link below for dates and list of material needed.
NEXT PRACTICE :MARCH 12, 2022 (RANGE)

PARTICIPATION DAY: Please see "Workday" link below for dates and information
NEXT PARTICIPATION DAY:FEB. 27, 2022 PUBLIC SHOOT TEAM 1&2 (CANCELLED)


ARCHERY SHOOT: Please see "Archery" link below for dates and information
NEXT ARCHERY SHOOT: 2022 FOR MEMBERS ONLY

CURRENT EVENTS: Please see Special Events link below for trips and packing list
NEXT HUNTER ED CLASS 2022
STATE COMP. JUNE 2022, AT HOUMA SHERIFF RANGE
WOODWORTH TRIP FOR STATE JULY 2022. LET US KNOW IF YOU PLAN TO ATTEND.


JJHEC,INC. HUNTING SAFETY RULES(ADOPTED 9/8/04)

ATTN: JJHEC, INC. INSTRUCTORS, IF ANY DISPUTE AMONG INSTRUCTORS OR OUTSIDE PERSONS OCCURS. PLEASE NOTIFY EXC. BOARD MEMBERS IMEDIATELY SO THIS CAN BE RESOLVED.RULES ARE SUBJECT TO CHANGE,AT DESCRETION OF EXCUTIVE BOARD.

CLUB MEMBERS MUST HAVE: HUNTER ORANGE HAT,VEST,AND FULL BODY HARNESS. BEFORE YOU CAN HUNT ON A CLUB DEER STAND OR CLUB PROPORTY. NO CLUB MEMBER MAY HUNT ON PROTERY WITHOUT A JJHEC, INC. INSTRUCTOR PRESENT.

STANDS MUST BE DRAWN FOR, AT SPECIFIED TIME, AT CONTAINER IN RANGE. ANY CLIMBING PERSONAL STANDS MAY BE USED, BUT MUST BE REMOVED AFTER EACH HUNT. YOU WILL STILL HAVE TO DRAW THE AREA IN WHICH YOU WISH TO HUNT.

MUST PARK VEHICLES, AT BACKSTOP OR CONTAINER AT RANGE. ALL INSTUCTORS AND MEMBERS MUST ENTER AND EXIT RANGE THRU MAIN GATE ONLY.

NO ATVíS ALLOWED IN CANE FIELDS OR ON HEADLANDS. ATVíS MUST BE TRANSPORTED TO AND FROM RANGE IN TRUCK OR TRAILERS ONLY.

JJHEC INSTRUCTORS CAN TAKE 1 BUCK ONLY PER SEASON.

KIDS MAY TAKE 1 BUCK AND 1 DOE ON DOE DAYS PER SEASON.

OPEN SEASON ON HOGS, WHENEVER SEEN YOU MAY SHOOT. NO ONE IS ALLOWED TO CHECK HOG TRAPS UNLESS AUTHORIZED BY DAVID MANNINA(TRAPPER).

WATERFOUL HUNTING WILL BE PERMITTED, BUT HUNTERS MUST ENTER AND EXIT WITH HUNTERS ORANGE. SO THEY MAY BE SEEN BY OTHER HUNTERS.

SMALL GAME (RABBIT,SQUIREL,ETC.) WILL BE PERMITTED, BUT WILL BE LIMITED DURING DEER SEASON.(WILL BE DISCUSSED BY INSTRUCTORS IF NECESSARY).







| Home | | Practice| | Workdays| | Archery| | Special Events| | | | |